Margaret Tilghman Hollyday ("Tim") Waesche
Died January 13, 2022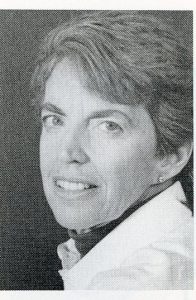 Margaret Tilghman Hollyday ("Tim") Waesche was an active "propster" for many years, after having joined the Troupe in '84. After her career retirement, her many varied activities included being a "fearsome" aerobics instructor (to which I can personally attest), and making kitchen preparations in quantity…especially her multiple mason jars of pickles, "relished" by her many friends.
Eventually, perhaps "tiring" of North Jersey, Tim relocated to North Carolina.
A brief biography: Tim was an alumna of the Cathedral School of St. Mary, Garden City, NJ, attended Mary Baldwin College in Staunton, VA, and received her B.A. from Hofstra University. She received her Masters in Education from William Patterson University.
In the 1960s, Tim worked in AM radio in the New York metropolitan area. Those were the days before FM radio, when kids heard the latest rock music from their favorite AM DJs. In the 1970s, when aerobic exercise was in its infancy, she worked with Aerobic Dance innovator Jacki Sorenson and became one of the first instructors of the new exercise regimen. She had a passion for teaching, and, after retiring, Tim loved to spend time with her dogs and was involved with local gardening and lawn bowling clubs. She was active in the community, volunteering with groups like the Blue Hill Troupe and the Mira Foundation, which provides guide dogs for blind children.
She was great at staying in touch, long after her move. We will miss her ever-present smile.
— Paul Miller
Return to BHT Memorial Masterlist