Barbara Biddle Garrison Peters
Died June 8, 2021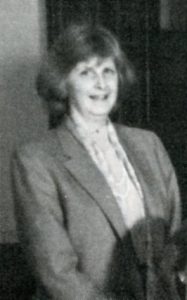 Human resources director, explorer, maker of beautiful quilts, dog lover, friend…and passionate Trouper. Since joining in 1971, Barbara's years in the Troupe were busy, productive, and filled with fun. She served on the Board several times and was active in Backstage set construction, costumes, and makeup, as well as chairing the Program Committee several times. She also served on numerous other committees from Stage Management to Development (…and she loved a good Troupe party!).
Barbara began her HR career at Time Inc. She moved on to run the HR departments at several major NYC law firms. Barbara and husband Steve then retired to Florida where she threw herself into a variety of community causes. Closest to her heart was working at Southeastern Guide Dogs, nurturing generations of puppies trained to help the disabled. With Steve, she also travelled the world exploring new experiences from the glaciers of Iceland to the holiday markets of Germany, from the polar bears of northern Canada to the delights of Tuscany, Sicily, and beyond. She grounded her trips in extensive research but always left time for the unexpected adventure.
Born in Philadelphia, Barbara passed away on June 8, 2021, in Lakewood Ranch, Florida. Steve was at her side together with her faithful companion, golden lab Bailey. Barbara is also survived by her brother Chuck.
Barbara was always thoughtful and patient with a ready smile and a sneaky sense of humor. She gathered friends around her like a magnet. I can still hear her infectious laughter and miss her sharp mind and sly wit. She will live long in our memories.
— Annabel Bentley
Return to BHT Memorial Masterlist