George Alexander
Died April 27th, 2020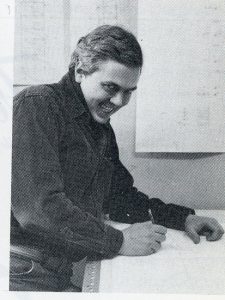 A Trouper since 1973 and a designer/architect by inclination and training, George Alexander worked tirelessly for BHT in the '70s, most notably as our Technical Designer responsible for translating the set-designer's sketches into production drawings from which the set would then be constructed. Of course it helped that he had a degree from Case Western Reserve School of Architecture, which he parlayed into a long career with the firm of Swanke Hayden Connell. But perhaps his most stunning Troupe achievement was painting eight life-sized portraits of Sir Ruthven Murgatroyd's ancestors which formed the backdrop for Ruddigore's Act II set in 1976. Many of us will remember him working literally through the night to craft these extraordinary paintings and we all shivered with delight as the actual "ghosts" stepped through these paintings and onto the stage to curse their hesitant descendant.
George was also a creative force on the administrative side of the Troupe. A member of the Board in 1978, he also served with distinction on committees ranging from Graphics to Admissions to the Dance, always bringing his wonderful sense of humor to the task. How he managed to balance these responsibilities with his high-pressure job was a source of wonder to his many friends. His work for Swanke included overseeing the interior design of American Express's Manhattan headquarters. Posted to London in 1989, George worked on such commissions as the Merrill Lynch Financial Center. Returning to the US, he ran Swanke's DC office for a dozen years before founding his own design/consulting business.
Sadly, both George's wife, Trouper Sherri Johnson Alexander, and his daughter Katharine predeceased him. He is survived by his son Michael, a granddaughter, and step-grandsons. His family and many friends will always remember his infectious laugh and picture him happily chasing a ball around the many golf courses he loved.
— Annabel Bentley
Return to BHT Memorial Masterlist