Jeanne Dickinson
Died September 12, 2021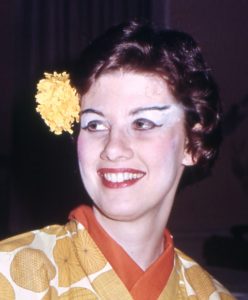 Little did Blue Hill Troupers know in 1957 that their organization was about to change, in very positive ways, for the foreseeable future. Jeanne Dickinson would become not only the Troupe's second female President, but an amazingly influential presence, as well. She used to say that the Troupe "has no memory and no conscience," but in our hearts we knew that she, Jeanne, was, in reality, both.
Born in Philadelphia on May 7, 1930, she graduated from Bryn Mawr and moved to New York to attend Columbia for her MS (in Radiological Physics!!). She joined the Canterbury Choral Society, where she met her future husband, S. Jerome Dickinson. In addition to the Troupe, she was also very active in the Cosmopolitan Club, the Sconset Trust and the Siasconset Casino, and she was, for many years, the Administrative Assistant to the head of the Brearley School. Jeanne and Jerry hosted memorable BHT parties in their East 66th Street duplex. They had four children and 10 grandchildren. Son Sandy says that he was born into the Blue Hill Troupe!
Jeanne was unflinchingly loyal, honest, supportive, and a fighter. But also the first and last to laugh, great fun to share a stage—or post-Program Committee drink—with. It's hard to imagine a Blue Hill Troupe without you, Jeanne. But you blazed a really terrific path for the rest of us.
—Carol Davis (and Sandy Dickinson)
Return to BHT Memorial Masterlist