Anne Becker Egbert
Died July 6, 2021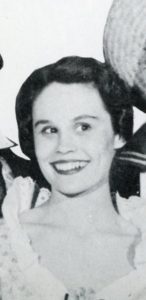 Beloved coloratura soprano Anne Becker Egbert passed away peacefully July 6, 2021 in Sudbury, MA. at age 90.
Born in Evergreen Park, IL, Anne joined the Troupe in 1953 following graduation from Connecticut College with a Music degree. She moved to New York City to study voice and to pursue a professional Broadway career, but it was with the Blue Hill Troupe that Anne found stardom and became one of the organization's most popular leading ladies.
Anne was blessed with a beautiful soprano voice, and the Troupe cast her often as the G&S ingenue for more than 10 years. Her favorite roles included Yum-Yum (Mikado), Elsie Maynard (Yeomen of the Guard), and Aline (Sorcerer).
During one of her first Troupe rehearsals, Anne fell madly in love with her husband-to-be, dashing baritone Richard Cook Egbert (Dick). Following a brief courtship and marriage in 1954, Anne and Dick enjoyed 60 years of singing and entertaining together. During their tenure in the Troupe, the couple were best known for their performances on stage together—especially Yum-Yum and Pish-Tush (Mikado) and Aline and Dr. Daly (Sorcerer). Hosting rehearsals in their apartment was a particular joy for the Egberts.
A resident of Greenwich, CT for 40 years, Anne shared her love of music and children as a music teacher. She wrote and directed her original musical, "It's Never Too Late," and later, Anne helped families as a Marriage and Family Therapist. She also founded and directed a Greenwich senior choral group called "The Silvertones."
Anne was predeceased by her husband Dick and granddaughter Caroline Grape. She is survived by her three children—Troupe member Allison Brokaw, Anne Grape, Richard Egbert, Jr., and four grandchildren—all of whom love to sing!
— Allison Egbert Brokaw
Return to BHT Memorial Masterlist