Dale McNulty
Died April 26, 2021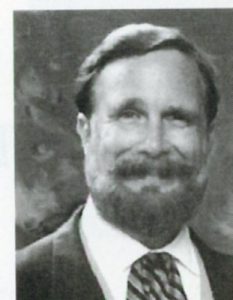 Dale Archer McNulty became a member of the celebrated BHT Backstage in 1976 (possibly because he viewed the 20 lovesick maidens in our performance of Patience earlier that year?). His dry wit and ever-present pipe became his trademarks while he lent his talent and expertise to the enhanced lighting of many BHT productions. In addition, his renowned culinary skills provided sustenance (aka Eggs McNulty) at the many Backstage awards gatherings at Dede Brown's apartment.
A successful Wall Street floor trader, Dale would retreat, with others, on occasional weekends, to his converted "what-had-been-a-military-hospital" on Cushing's Island off the coast of Portland, ME. Other summer weekends were spent in the Hamptons, in a shared house (the fabled Duckwood, almost all of whose members were BHTers), where he was an integral part of the management team, affectionately called the "gang of four" (with myself, Charlie Kelly, and Carol Davis).
Dale retired, left NYC, moved to West Palm Beach, married a lovely woman named Marietta Muina, and became active in the Palm Beach Symphony, eventually as the Board President. Dale was integral in transforming the non-profit into one of the area's top cultural institutions and positioning it to become one of the nation's leading orchestras.
He is survived by Marietta, four children, two stepsons and five grandchildren. Finally, Dale and I had the same birthday, May 9, and we jested as to who was older. I was the elder, but not certainly the wiser.
— Paul Miller
Return to BHT Memorial Masterlist