Henry Cole
Died October 14, 2020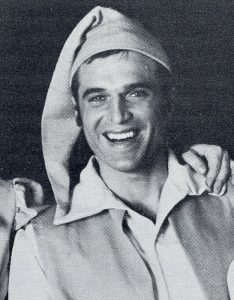 Henry P. Cole Jr. was a charming, intellectual, talented man, who left an indelible mark on the Blue Hill Troupe and then movedto Alaska, where he literally became a local legend. I knew Henry only through his infrequent visits to New York. From descriptions, I was expecting a god, and Henry came pretty close. Read on.
He lived a full, multifaceted life as an academic, outdoorsman, scientist, hockey player, teacher, singer, and beloved partner and friend. Henry was born in New York City on Sept. 21, 1937. He graduated from Williams College, with a BS in physics, and earned his Master's in physics from Michigan State. Henry moved to Alaska in 1969 and completed his doctorate in upper atmospheric physics in 1977 at the University of Alaska Fairbanks Geophysical Institute.
Henry was a singer from the time he was a soprano until the end of his life as a baritone. During the '60s, not only was he a member of the Troupe, but he also performed in summer stock musical theater up and down the New England coast. In Fairbanks, he helped found Fairbanks Light Opera Theater; he performed in their productions and in the Fairbanks Summer Arts Festivals in choruses, cabaret, and opera workshops. He sang regularly in the University Community Chorus and the annual Fairbanks Sing it Yourself Messiah.
While pursuing his Ph.D., he built his log cabin on a hill at the top of an impossible road. This became a lifelong endeavor, believing that if "house finished, life over." He played hockey with the UAF Nanooks, and then on the Old-timers Leagues well into the 2000s. He taught classes in celestial navigation and worked on the trans-Alaska pipeline.
Are you beginning to get the picture?
In 1986, Henry was appointed science adviser to Gov. Steve Cowper in Juneau where he earned the affectionate title of Dr. Science from his colleagues. He assisted with the establishment of the Alaska Science and Technology Foundation; worked on sustainable energy, global climate change and rare earth issues; and helped initiate commercial rocketry in Alaska.
Henry Cole—a true Renaissance man—lived a rich, purposeful life, always involved in the things he felt to be of deep importance: science, poetry, mathematics, athletics, education and music. Henry passed away in Fairbanks on Oct. 14, 2020, of COVID-19. He had just celebrated his 83rd birthday.
— Carol Davis, with thanks to the Fairbanks (AK) Daily News-Miner
Return to BHT Memorial Masterlist