Dan Bergfeld
Died September 25, 2020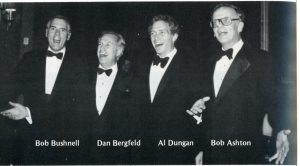 Dan Bergfeld died at home peacefully in Vero Beach, Florida on September 25, 2020 after a long battle with cancer that he met with faith and courage. The genuine smile that lit up his face reflected his lifelong gratitude for a good life, well lived, with people he loved and who loved him. Dan will be remembered for his warmth, his welcoming smile and white fluffy hair, his kindness and thoughtfulness for others, his wit, and his embodiment of love through the language of music.
Born in Bronxville NY, he lived most of his life in Stamford and New Canaan CT, until he and his wife, Holly, moved to Vero Beach full-time in 2018. He was educated at New Canaan Country School, Milton Academy, and received a BA from Yale College in 1965, where he was a proud 2T with the Whiffenpoofs. He later received his MBA from the Stephens Institute of Technology.
His career in NYC was in management consulting and operations analysis, including for NYC government during Mayor Lindsay's administration. But his real life passion was music, and his tenor voice gifted choral groups, the Blue Hill Troupe in NYC, Whiffalumni benefit concerts, and church choirs in NYC, CT, and FL. He relished concert tours with the Greenwich Choral Society and the Alumni of the Yale Russian Chorus in Russia, China, Cuba, Bulgaria, France, Italy, and Greece.
If not singing, Dan could be found on a tennis court in men's and mixed doubles. Or in the workshop at Silvermine Arts Center (New Canaan, CT) where, as a juried member, he would create large sculptures to move in the wind, as evidence of the invisible Great Spirit. Raised in the Quaker tradition, he has been a member of the First Presbyterian Church and choir (New Canaan) for much of his adult life. He also drew his faith from many traditions, particularly the Lakota Sioux: "Make me always ready to come to you with clean hands and straight eyes. So when life fades, as the fading sunset, my spirit may come to you without shame."
A few personal thoughts based on our friendship. Dan brought his quartet to sing at our wedding reception in January, 1985. They simply transformed the event! You can see him reading a poem he had written just for that occasion. He was also instrumental in starting an evening of singing Christmas Carols at our apartments/town house in NYC, since he provided all the sheet music for 70 guests, for some 20 years! At my suggestion, he happily joined the Dean's Advisory Council of the Westminster Choir College in Princeton, NJ. And finally, when we came to an Alumni of the Yale Russian Chorus concert in New Haven in October, 2018, he took much delight in admitting to us that he was one of the very few members who spoke absolutely no Russian, and how much fun it was to meet the challenge of memorizing those strange sounds!!
He is survived by his wife, Holly Adams, the love of his life; step-children Lisa Ward, Andrew Regier, and Abby Regier, and grandsons Tucker, Chris, Briley, and William; brother-in-law John Adams (Melissa), sisters Lisa Bergfeld Soleau and Kristin Bergfeld, and nephews Jason and Tyler Soleau.
— Mac McMorris
Return to BHT Memorial Masterlist