Dan Brooks
Died August 2, 2020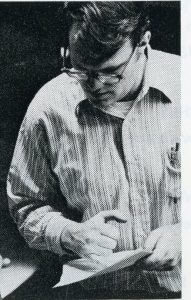 Dan grew up in Chappaqua, NY, and attended Princeton, where he cut his teeth on G&S as the technical director for the Savoyards. He went on to earn degrees in electrical engineering and in law at Stanford. He became a partner at Cadwalader, Wickersham & Taft, working in the New York office and later in Washington, DC, specializing in computer law. He later formed his own business, Computer Law Associates, in Washington after a stint at the SEC.
In the words of his Princeton obituary, "Dan was a lifelong putterer and tinkerer who could build and repair machines from boat engines to motherboards." These talents fit right in with Blue Hill needs as he began with the team, building sets in the boiler room below Hunter College. He and his wife, soprano Barbara Badertscher Brooks, had joined the Troupe in 1968. His skills and reliability were quickly recognized, and he shared set construction leadership beginning in 1970-1971. Edgar Masters recalls latching on to Dan as the guy who knew what to do backstage, and the guy people listened to, especially while moving the set into Hunter Playhouse. "It was fun working with Dan since I learned so much."
It was through Dan's father, a lawyer working for the Penn Central Railroad, that the Troupe was able to build sets, make costumes, and even store platforms for several productions in a Penn Central office building near Grand Central.
I recall Dan once, hunkered down, scrambling across the upstage doing an impromptu cameo to fix a faulty pulley while the principals were emoting downstage. It must have been a dress rehearsal and it was probably Byron Ringland who opined mildly, "It wasn't pretty, but it got the job done." …Typical Dan, stepping in to make it happen.
More than once, Dan and Barb entertained Troupers in Maine with lobsters on the beach and parasailing above the lake at his family's camp on Lake Androscoggin. Perhaps Dan's last hands-on BHT participation was joining Edgar, myself, and the crew in Blue Hill, Maine, to strike the set after the Troupe performance (it must have been Pinafore) celebrating the BHT 75th anniversary.
In recent years, after Dan and Barb split up, Dan remained in Virginia. We would have long telephone conversations once a month or so discussing the best earphones for listening to TV, the wiring on a tractor's ignition, BHT friends, computer programs, family, or any other random subject that caught our fancy. It wasn't for lack of topics that we hung up after more than an hour.
— John Chase
Return to BHT Memorial Masterlist