Cynthia Gowen
Died April 5, 2020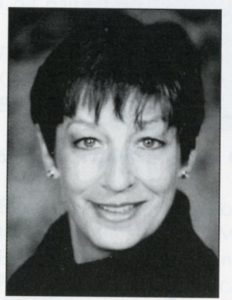 Cynthia Gowen joined the Blue Hill Troupe in 1991. Recruited to be the "gypsy" violinist in the fall production of She Loves Me by friend and Troupe member Joanna Pickett, the show's music director, Cynthia lit up the stage in the cafe scene. Vigorously encouraged by the cast, she auditioned for the Frontstage and was admitted that same fall.
Along with her fiddling talents (as she liked to refer to the violin), and singing, she was an accomplished dancer, and went on to choreograph and perform in many spring and fall productions. Admired for her patience when teaching BHT's dance-challenged to move well, her brilliant but accessible choreography enhanced a number of Troupe shows, especially Cabaret (which she also directed), Mr. Cinders, Utopia, and Pirates of Penzance.
No slouch on the stage, she won the Troupe's Sunny Hayward Center Stage award—given to an outstanding ensemble member—for her hysterical portrayal of Hildebrand's wife in Princess Ida, a character that Gilbert must have forgotten to add to his libretto. Off the stage, she served on the BHT Board in the 1997/98 season, another Sorcerer year, and co-produced several summer concerts performed by members of the Blue Hill Troupe. These charitable events were held primarily at the Southern Vermont Arts Festival, hosted by the late, great Bob Bushnell, along with several other venues in upstate New York.
Cynthia's dry wit and wicked sense of humor, talent, and love of the arts touched so many inside and outside of the Troupe. Though her illness kept her away for the last several years, in spirit, she never stopped being a part of BHT.
Cynthia passed away on April 5, 2020, after a long fight with COPD. She is missed.
— Lesley Berry
Return to BHT Memorial Masterlist