Don Woodman
Died December 18, 2019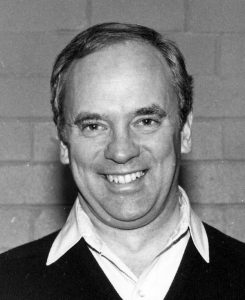 Don Woodman was—where do I start?—a lawyer, a decorated Brigadier General in the Air Force Reserve, and one of the best musical theatre/G&S performers ever. He was smart, funny, a sometimes marathoner, a bit of a rogue, and a great drinking buddy.
Don played most of the bass/baritone roles in the G&S canon for the Troupe, most notably the Pirate King (by the way, his full name was Donald King Woodman), The Mikado, Jack Point, and John Wellington Wells, Frederick in A Little Night Music, and Judge Turpin in Sweeney Todd. Prior to joining the BHT in 1976, he had lead roles in many shows with the St. Bart's Players. It was when I saw him as Emile De Becque in South Pacific that I (like many others!) fell prey to the Woodman mystique.
Professionally, Don toured with the national company of My Fair Lady, playing Alfred Doolittle. He was, memorably, the father in the "not your father's Oldsmobile" commercials.
A little history: After graduating from West Point, Don had a distinguished career in the US Air Force. He was awarded the Legion of Merit for exceptionally meritorious conduct in the performance of outstanding services to the Government of the US as Mobility Assistant to Strategic Air Command, Deputy Chief of staff/Intelligence, from 1989 to 1992; and the Air Force Distinguished Service Medal for exceptionally meritorious and distinguished service as Mobility Assistant to Air Combat Command Director of Intelligence from 1992 to 1997.
After retiring from the Air Force, Don worked as a probate and estate lawyer in private practice, focusing on personal taxation and entertainment industry cases. But his real love was the stage.
Don Woodman died over the Christmas holiday in 2019. He leaves his sister, Tracey D. Woodman, and nephew Zackery Green. He has joined his parents and brother at Arlington National Cemetery. But I'm sure he's actually strutting his stuff, wherever he may be, as the once and forever Pirate King!
— Carol Davis
Return to BHT Memorial Masterlist