Tom Ruhm
Died July 25, 2019
The Blue Hill Troupe lost a stalwart Frontstage member when Tom Ruhm passed away at his summer home in Quogue, NY on July 25, 2019.
At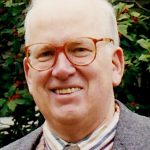 Tom's memorial service in Bronxville, NY shortly thereafter, his son, also Tom, remembered his father with loving words, among them, "My Dad loved to sing. He had a gorgeous baritone voice. While a young bachelor in New York City, he joined the Blue Hill Troupe…It was there that he would grow intrigued by a beautiful and endlessly fascinating young woman, Michèle Wood. After a short courtship, they were married in a memorable wedding in Oyster Bay, NY."
The Ruhms met in the Troupe and were the quintessential Troupe family. Tom, who joined in 1972, sang in the chorus every year until shortly before his death and served on endless Troupe committees. Mimi has been a longtime editor of the Troupe program and daughter Wendy was an active—and beloved—member of the Backstage until her untimely death from cancer at age 36. Both Tom and Mimi were active recruiters of new members, including two who would go on to serve as Troupe presidents—Liza Mortimer Tague and myself.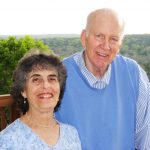 Outside of the Troupe, Tom's family came first. Again, from son Tom: "My father loved me and my sister Wendy. He was the definition of unconditional love and would always greet us with arms wide open and a huge smile. I thought he was a superhero."
A lawyer in his professional life, Tom spent most of his career as a venture capital attorney with Bessemer Securities. For years he wrote a bi-monthly newsletter on Federal Reserve monetary policy and occasional articles for the Wall Street Journal. In his home community of Bronxville, he was a longstanding and devoted member of Christ Church, for which he served as treasurer and Senior Warden.
Tom was a wonderful friend who cherished conversation and time spent with friends old and new. A refined sense of humor, an engaging smile, he was always fun to be around. Toward the end, his physical limitations started to catch up with him, but he wouldn't be held back from the things he loved. In his last year in the Troupe chorus he sang sitting down. A stalwart Trouper to the end.
All of us who knew this remarkable man were better for his friendship. We will miss him more than words can express.
— Edgar Masters
Return to BHT Memorial Masterlist