Betsy Goodwin
Died July 9, 2019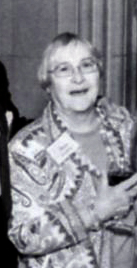 Betsy Goodwin had a gift for friendship. Her memorial celebration in the fall of 2019 was attended by friends and family from all over the country. There were people from childhood, college, jobs, overseas postings, and, of course, the Troupe. Speaker after speaker told about having gotten absorbed by life priorities (jobs, children), and allowing their correspondence with Betsy to lapse. "But she wouldn't let me go!" they exclaimed. Most had at least one story of Betsy's brilliance as a raconteur. Her stories often centered on the exploits of one of the Goodwins' many dachshunds (Dexter, the current charismatic incumbent, is number eleven).
She was game for anything, even if it was outside her comfort zone. Though she wasn't a horse person, and didn't much go in for wilderness camping, she jumped right in to join a pack trip in the rugged Wind River Mountains of Wyoming. It turned out she was plagued by shoulder issues that would soon require surgical repair. Which meant that doing what one does on a wilderness pack trip—pitching and striking tents, getting on and off horses, and riding for hours on narrow, steep trails—really hurt. But she never complained. She just carried on with grace and good humor. Her companions learned firsthand what it means to Be A Good Sport.
Betsy was from Youngstown, Ohio. From there, her father took her to baseball games in Cleveland and her mother took her to Broadway musicals in New York, thus planting seeds of two lifelong passions.
She graduated from Duke University in 1963, and moved directly to New York City. She went to work at Macy's in what was then called Personnel, training new hires to be effective on the Macy's floor. With some Macy's friends, she joined a jovial weekend house on Fire Island; there she met Jerry Goodwin. They were married in 1967, in Frankfurt, where Jerry had gone to work in Citibank's international operations. Citibank assignments also took them to Berlin, Milan, Rome, and Bahrain. The travel bug never left them.
During an extended stateside interval, the Goodwins lived in New York. Paul Miller introduced them to the Blue Hill Troupe in 1975. Jerry was a stalwart sets worker, and he went on to be a Troupe President. Betsy gravitated to the Tickets office, starting in the time when the Troupe's database lived on 3″ x 5″ index cards spread out on various dining room tables. She served on the Troupe's Board and all manner of committees.
Not long after the Goodwins came home permanently, to Weston, Connecticut, she began her long affiliation with the Wilton Library. She started as a volunteer, shelving books, but was quickly hired to work in more brain-intensive positions, including the group that decided on book acquisition picks. Yes, she was well-read. She loved word play and could be counted on to shoot you a thigh-slapping or eye-rolling pun
.
Anyone lucky enough to be a guest of the Goodwins knew two important things about Betsy: she was a gracious and abundant hostess, and she loved sports. When she fed you, you ate much more than you ever thought possible because it was so delicious. The kitchen TV was almost always on (muted) during baseball season and NCAA March Madness. For the latter she filled in her brackets and put her money where her mouth was. She was glad when she could bet on Duke to win. She was a loyal Mets fan. Going to a Mets game with Betsy was like having your own private, all-knowing, all-seeing commentator, pointing out the subtle complexities of every play and telling the story of every player on both teams. She knew every step of the dance that is baseball.
I was lucky to be one of her friends. It was rich, funny, and fascinating. I miss all these things about her. I cherish having had them.
— Torrey Robeck
Return to BHT Memorial Masterlist